Olive tree cultivation and olive oil production has been with humankind since time immemorial, according to evidence that provide the artifacts and archaeological remains of the most ancient civilizations. The olive has been an integral part of life in the eastern Mediterranean from the first stirrings of civilization. There are stone mortars and presses used for olive oil extraction that date back to 5000 BC. Archaeological findings from the Minoan Palaces in Crete are fine examples of olive oil's role in the Cretan or Minoan civilization, which reached its zenith between 2000 and 1450 BC.
From the time of ancient Egypt into the modern religions, olive oil has been used in religious ceremonies and as an external ointment, and you will find many citations about the olive in the Old Testament and other holy writings. After the Flood, an olive leaf brought by a dove told Noah that the flood waters had abated. Throughout the various civilizations, the olive tree and olive oil have occupied pivotal positions in the agricultural economy of Mediterranean countries and in their commerce with neighboring populations. The Minoans of Crete were the first cultures to achieve prosperity on olive oil, and Crete continues to be an important olive production area to the present day.
The production of olive oil has gone through many stages over the years, until it becomes as it is today. Threshing floors with stones, small factories, manually and later electrically presses. Nowadays, the production of olive oil is done by modern means. The olive is better processed so that this natural product is produced, in accordance to the provisions of European Legislation.
History of Olive Oil in Minoan Crete
Archaeological finds proving that the Minoans used olive oil in their daily lives are found everywhere in Crete and especially in the region of Sitia, Lasithi. Particularly impressive discovery is the untouched olives with the flesh preserved, found at the bottom of a cup sunk in a water cistern, in one of the four bigger Minoan Palaces in Crete, the Minoan Palace of Kato Zakros, that date back to 1600 BC. Findings as amphora and big pottery containers that called Lini and were used in the production of olive oil, have been discovered in many houses around the Palace of Kato Zakros and in Minoan mansions, in Palaikastro and Itanos, Sitia.
Ancient stone olive presses have been found in Crete. The one in Vathypetro, Archanes is believed to be the oldest in Europe. Olive oil was stored in large pithoi like those found in the West Magazines of the Minoan Palace of Knossos, with a total estimated capacity of 250,000 kilos. The Minoans used olive oil in their diet, as a cleanser instead of soap, as the base for scents and ointments, as a medicine, for lighting and to protect delicate surfaces.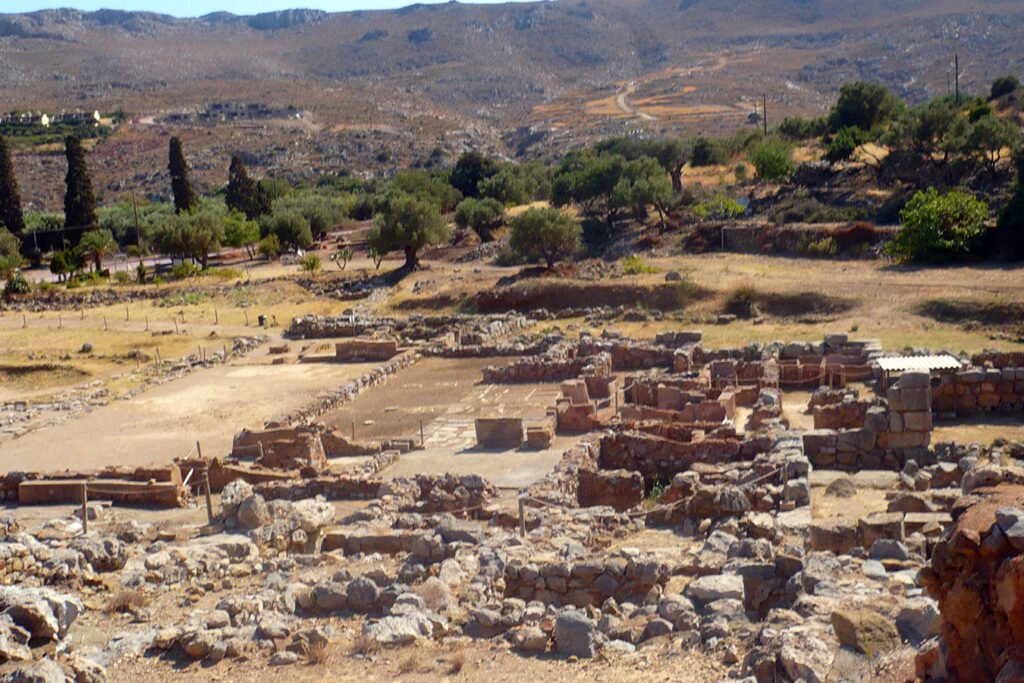 Benefits of Greek Olive Oil
In Greece today, olive oil is almost sacred. The Greek people are the world's biggest per capita consumers of olive oil: the national average consumption varies from 18 liters to over 30 liters per person; the higher consumption certainly belongs to the people of Crete where annual per person consumption averaged 31 liters, according to a 1996 study.
The basic ingredient for sauces in Greek cuisine is olive oil, where it may be soy sauce for Chinese or Worcestershire sauce for the English. Greek olive oil is more than sauce, of course, but it is the condition sine qua non (without which, nothing) and without it there could be no Greek cuisine as we know it. In the English-speaking world, a recipe for a Greek dish typically calls for two tablespoons of oil. That same recipe in a Greek household calls for half a cup. Anywhere on Crete it calls for a full cup.
An authentic Greek or Cretan dish will, to a traveler, seem awash in olive oil. Perhaps you'll say that so much oil makes for too many calories and too much fat. But, it is actually the fuel for Greeks, and Greek olive oil, especially the Cretan variety, is healthy food and fuel.
Numerous studies have indicated that a Mediterranean diet low in saturated fats but rich in monounsaturated fats such as olive oil, in addition to whole grains, fruits, and vegetables, helps prevent heart disease and even cancer. Another study reported a few years ago in the New England Journal of Medicine found that adherence to a Mediterranean diet in a Greek population substantially reduced risks of mortality, especially risks of death from heart disease and cancer. The traditional diet that was assessed included lots of olive oil, an abundance of vegetables and fruits, nuts, cereals and moderate intakes of fish and wine. The whole diet that was thought to confer these benefits, but the dietary monounsaturated fat content (mainly from olive oil) plays an important role in this protective effect.
It should be recalled that the ideal climates of Greece and Crete contribute most favorably to the superiority of its olive oil: it has richer, fruitier flavor, intense aroma, and distinctive green color. The blazing sunshine in Greece and its islands produces a bounty of anthocyanins, flavonoids and phenols — natural plant substances that fight oxidation caused by the sun's ultraviolet light.
The benefits of Greek olive oil have been sufficiently demonstrated. The best way to know would be to incorporate the olive oil into your diet.